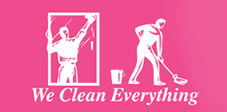 Words From Our Clients
Hello ,
I wanted to let you know that the Vendor Committee met today to go over our recommendation to the leadership regarding our cleaning services for the office. We sent forward the recommendation that we continue to use We Clean Everything, which was almost immediately accepted. We are happy to be continuing our relationship with you all, thankful for your patience throughout this review process, and looking forward to continuing the same great service we already receive.
While we evaluated your service along a number of different criteria (as described at the beginning of the process), these following items went a long way towards making our decision easy. We'd like to commend you on these policies or practices, and wanted to make sure you knew they were a major consideration for us (not in a particular order):
1) Your team has for many years, and continues to do, a reliably great job cleaning the suite (nightly, quarterly, and annually, depending on the service)
2) The benefits, honest wages, and care you provide for your staff
3) Your focus on hiring of minority candidates, internal promotion practice, staff retention rates, and on training management to be multi-lingual to better the communication with all of your employees
4) Your environmental friendly practices (which are very close to those of other companies who use that as their main talking point)
As our focus grows on better evaluating all of our vendors from multiple perspectives, it is great when we can do a review of a current vendor and find that they are already well in line with the type of company we would like to support now, and in the future. We have you on a three year cycle from here, so we'll get the chance to do this again as the Vendor Committee calendar reminds us it is time to begin anew. In the mean time please keep up the good work, we really appreciate it! Thanks,
Brian Molony
Business Operations Specialist
In all seriousness, I have watched those guys on four projects and WCE on another. Their approach to the job shows a great deal of diligence and that they enjoy what they do. I am so happy that I did not throw away that card which I received in the mail from WDE. Normally I pitch them in the trash can after a day or two. For some unknown reason I kept WDE's for several weeks in a spot where I could see it each time I sat down to eat. I have not regretted it.
Herb
Herbert I Wilkins
Outside In began in 1968, and they have continually revised our Homeless Youth Services and Medical Services to meet changing community needs.
Their mission is to help homeless youth and other marginalized people move towards improved health and self-sufficiency. They are…
• Service providers and advocates.
• Experts in understanding adolescents.
• A Federally Qualified Health Center.
• A licensed Mental Health Agency.
• Leaders in serving GLBTQ youth.
We Clean Everything Services Handled for Outside In:
– Cleaning 6 nights a week, 20K sq. ft. area, strip & wax, carpet cleaning, their medical clinics, mobile medical clinic vans, & any other work that they request as needed.
Ten years ago we began the costly and frustrating experience of finding the right cleaning company for us.
We had independent vendors (didn't work) high price eco-green vendors (didn't work) a large company, who it turns out, we weren't a big enough account for them to take our complaints seriously.
When their contract was over we discovered We Clean Everything.
We finally found someone whose cost, quality and honest business practices fit us perfectly.
WCE has been excellent in communication, consistent quality and helpful in organizing and scheduling our cleaning needs. If we have any problems they respond, more than often, on the same day.
Geo-Facilities Manager-We Clean Client
Leading the industry with over 30 years experience.

Commercial Cleaning
Residential Cleaning