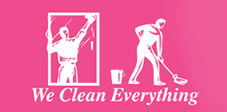 Commercial Cleaning Services
Vancouver, Portland, West Linn, Lake Oswego, and beyond.
Buildings
Offices
Doctors
Dentists

Clinics
Schools
Churches
Industrial Plants

Dealerships
Restaurants
Homes
Apartments

Condos
Construction and
Moveout Cleaning
Types of Services
Janitorial Services
Maid Services
Strip & Wax Hard Floor Surfaces

Auto Scrub & Buff Hard Floor Surfaces
CSteam Carpet Cleaning
Pressure Washing

Window Cleaning, Interior & Exterior
Roof & Gutter Cleaning
Air Duct Cleaning (Roto Brush System)
COMMERCIAL CLEANING SCHEDULE
We customize to your specific needs. Below is an outline of our general cleaning schedule:
Bathrooms:
Scrub, wipe and disinfect all toilets, urinals, sinks, counters, mirrors, partitions, switch plates, door knobs, stock all
hygiene products and vacuum and wash the floors.
Kitchen and Break Areas:
Wash all dishes and load and start dishwasher, clean inside microwave, exterior cabinets, countertops (move and clean
behind all items) and exterior of all appliances. Clean all tables, chairs, coffee pots, tea pots and vending machines and
generally tidy up.
General Cleaning:
Remove all trash and recycle and put in the appropriate containers, replace any torn liners and clean any soiled
receptacles. Clean and disinfect all desks (please note we shall not move personal papers on any desk), phones, drinking
fountains, light switch plates, picture frames and spot clean walls where soiled. Vacuum and wash all floors.
Entrances:
Sweep approximately no more than ten feet out from the doorway to ensure debris not to enter the building, wash the
main door (inside and out). Reception area, arrange any magazines, notices or any company information for your business
in order when the front door is opened in the morning all items are tidy and ready to go.
Other Services:
Strip and wax hard floor surfaces, auto scrub and buff hard floor surfaces, steam carpet cleaning, pressure washing, roof
and gutter cleaning, air duct cleaning (roto brush system).
We use only green cleaning products.