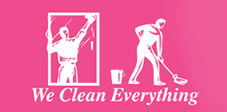 About Our Company
We Clean Everything opened its doors to the public thirty plus years ago.
We Clean Everything now employs over forty five full time workers and operates four night crews from six in the evening until three in the morning to accommodate all Commercial Clients and four day crews from six in the morning until three in the afternoon to accommodate all Residential Clients.
Licensed, Bonded, Insured & Workers Compensation.
All Employees prior to employment go through a rigid background check to ensure safety for all clients and coworkers. All employees are trained on industry guidelines and are in full compliance with all Local, State, Federal and OSHA guidelines. All employees are paid with a base pay and also a Performance Bonus to ensure the Job is done right the first time and the thousandth time. We are very detailed and consistent. Tony Rew, General Manager, helps make everything happen to ensure all clients needs are met.
Tony has been with the company for over nine years. Tony is the liaison to ensure that all Employees and Clients needs are taken care of in a timely manner. Tony is a true gem and an important asset within the daily operations of the company. Tony moved from Yakima ten years ago and enjoys the outdoors.
Cindy Hammond, our Office Manager, helps ensure that all the scheduling is done as the schedule can change by the moment as clients needs can change frequently. Cindy also does the book keeping to ensure invoicing is correct and timely. Cindy does a fantastic job in keeping order and we all enjoy working with her. Cindy has lived in the Pacific Northwest since 1985 and is a devoted Wife and Mother.
Sincerely,
We Clean Everything

Get More Info Call Us: 360-253-9304
Leading the industry with over 30 years experience.

Commercial Cleaning
Residential Cleaning