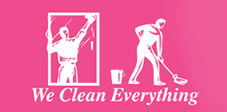 Office Cleaning in West Linn
If you are looking for an industry leading, bonded company to clean your West Linn office or commercial building; look no further than We Clean Everything!
We are very careful when cleaning desks with important items and paperwork on and around them. Rest assured we will not disturb your employees work or the productivity of your office. We are very thorough with our cleaning and will vacuum all corners of the office, including underneath desks, and empty out all waste baskets and recycling bins.
Avoiding cleaning the dreaded office kitchen?
We realize office kitchens can be scary. Mugs are left out with day-old coffee, leftover lunch spills and piled up dishes; and let's not even talk about the dust bunnies. Kitchen cleanup duty can cause tension between employees that have to clean up after others. If you don't have this problem or simply would like a deep cleaning once every couple of weeks we can help. We Clean Everything will come in after everyone else has left and scrub everything down, including sinks, counters, microwaves and tiled floors. All kitchen surfaces will be cleaned and sterilized, which is extremely important to combating E. coli and other food-borne illnesses.
We also do bathrooms! We will restock all products in each washroom, including toilet paper, soap and paper towels, and ensure all is sparkling and ready for the next day. We will also scrub each toilet, mop down the floors and clean the mirrors.
We Clean Everything can loves to clean West Linn commercial building as well. We ensure hallways are clean and vacuumed, and elevator mirrors and buttons are wiped down. It is a true sign of a well-managed building when everything is clean; whether you are looking for new tenants or already have an established base, a clean building leads to happy tenants!
Leading the industry with over 30 years experience.

Commercial Cleaning
Residential Cleaning